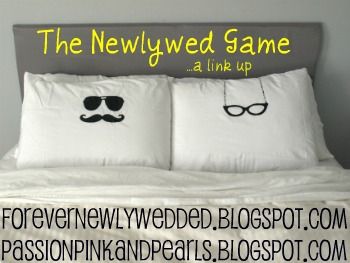 Today I am linking up with these beauties Karla & Veronica!!
Thanks so much for hosting again ladies! <3
1. If you could go on any trip for your anniversary, where would it be?
I've always wanted to go to Paris and enjoy a nice cup of Paris coffee in a Paris Cafe'.
I'd want to go on a romantic get away like the Caribbeans.
2. Is there a chore that you don't do, but your spouse does, and vice versa?
Well, I do all of the house chores pretty much. Which is fair because he brings home the bacon. So I clean the house and he cleans the streets. :)
True that home girl. :)
3. Is there a piece of clothing of yours that your spouse would get rid of?
Ha yes! All of my mustache accessories!! He hates my stache fab because he thinks it's too teenager.. I seriously can't help the fact I dress young.. & he dresses like He's 30. But I'm okay with that! I always find him lookin good in his suits.
Nope! She likes my sexy attire.
4. What does your dream house look like?
Oh, my dream house.. This could take a LONG time to write! My dream house. I dream of a house with a farm porch that goes all around the house with roses. A house with 6 bedrooms, 2 offices (one for Leon and the other for my writing) & a basement kept for ministry. I dream of a big kitchen with an island table. With wooden floors with a piano and a fire place in the Living room and with Old fashioned Victorian decor. And a nice size back yard with a tire swing.
A mansion with lots of doors and rooms with all the bells and whistles!
5. Is there a movie that you and your spouse watch because you love it so much?
We really don't watch movies.. I mean sometimes we do but we mostly watch TV series. :)
Not really, we're pretty big on hit TV series though! We wait to watch them on Netflix. Right now we're watching "Lost".
6. What are 5 songs that would be on your road trip soundtrack?
It honestly depends who's making it! haha. If it were me it would be
1. Taylor Swift. "Sparks Fly"
2. Josh Groban. "You are loved"
3. Keith Urban. "Days go by"
4. Kari Jobe . "Your My Healer"
5. Tenth Avenue North "Your my beloved". (That song makes me cry sometimes) <333
Leon's would be all mixtures of Gospel, rap, gangsta, maybe country, and metal. Yep! =)
I honestly haven't been really making playlists. I just listen to the radio so really anything on there. :)
7. What was your favorite date, either while you were dating or when you were married?
I really treasure our very first date. It was like my first date ever so the newness was so exciting. I remember being so nervous and Leon being so calm.. (Except when he almost ran off the road from checking me out haha!) But it was great! That was the date when I really realized I wanted to spend my whole life with him!
Though the only thing I wish I could change about it was my attire. I was so insecure in my skin back then it was crazy! I wish I could have went back in time and gave myself a shopping spree for some fashionable clothing. :)
Our first date when we went to Carrabbas. Because that's when we really started to get to know each other. It was a lot of fun!
8. What is your spouse's favorite meal?
He's a meat lover and is a huge fan of 5 guys cheeseburgers! But if we're talking home cooked meals. He loves my Meat loaf with Mac & cheese with a veggie. I usually cook it for him when he's had a hard week.
She really likes Pizza!
9. When your spouse is sick, what do you do to make them feel better?
The answer to this is simple.. I pray over him, love over him, quote healing scriptures over him and repeat. Until my husband is well again.
I help her around the house and stuff.
10. What was your favorite gift that you put on your wedding registry?
Probably my dishes and Salad tosser. I love my flower plates and mugs and my salad tosser is sooo convenient! :)
I would have to say when our premarital counselors paid for our hall for us. It was so kind of them.