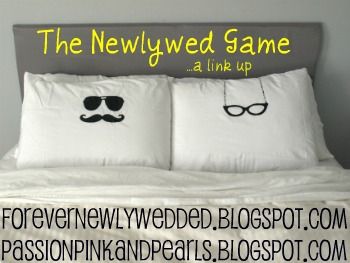 1. What are three things you love about your spouse?
Smile, Personality, body
His passion for Jesus, His goofiness, and the fact that he's so random!
2. What are two things you love about your relationship with your spouse?
She takes care of me and it's always an open relationship.
The fact that we're open. We're willing to talk about anything! And that we are best friends keeping God first in our relationship. :)
3. What is your favorite tv show to watch with your spouse?
At the moment "Prison break"
"Prison Break" and soon to be taking on "Once upon a time"
4. When did your spouse know, you were the one?
Bible Study
Definitely Bible study! There's no going back there!
5. What is your favorite dating memory with your spouse?
Our Honeymoon in Ocean city. oooh yea!!
Ahh there's so many! I'd have to say our very first date. <3
6. What is your spouse's go to saying when he/she gets frustrated?
"Well!"
FREAKIN!!!
7. What is something your spouse loves to hear you say?
"I love you"
I made you cookies!!
8. Wedding vows: Who chose them or wrote them and what was your favorite part of them?
"Til death do us part"
We did the traditional wedding vows because we loved it so much! Maybe if we ever renew our vows we'll write our own. But I have to say my favorite part is when We talk about how we'll stand by and take care of each other no matter what until death! For better and for worse.
9. What is something you convinced your spouse to change after you got married?
(Think like, a habit or choice of products, etc)
Making sure the door is unlocked when I get home.
To stop eating at McDonald's!! He still goes sometimes but not nearly as much.
10. What does your spouse have going to the championships on his/her basketball bracket and why?
To be honest we actually had no idea what this question meant until we heard answers from others haha! We don't really do sports other than play them. We would go to a game but to watch it on TV. We'd rather be making out ;)