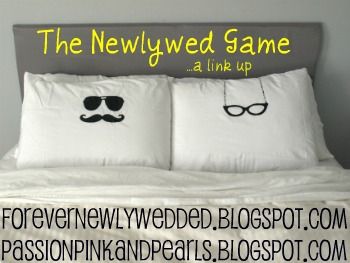 I'm actually a bit early haha! But tomorrow I'm linking up with the funny, beautiful and gorgeous
Karla
&
Veronica. Come join!!
1. Which one of you (you or your spouse) can go without a mirror the longest?
Haha, He will probably say me, but it's defiantly him! He's so specific and particular when it comes to his appearance. ;)
Haha Me! Heather's always looking at herself. ;)
2. Do you have a picture of your spouse in a unique place (for example.. in the car, in the wallet, in your purse, in the bathroom?) and if so, where?
I use a lot of pictures of him as book marks haha! Like pictures you'd put in your wallet. I like to use them as book marks.
Haha I have one in my closet!
3. Complete the sentence. "My spouse has more _________ than anyone else I know!"
Colognes!! Definitely!!He has so many for different occasions. He even has a certain cologne for his feet and another for his job.
Pep!
4. Think back to your very first kiss with your spouse. How do you think your spouse would describe that kiss in one word?
Indescribable! haha
Bodacious! <333
5. Which one of these would your spouse say they are "ruled" by: Their heart, their mind, or their stomach?
hmmm.. If I had to choose I would say Stomach the man loves to eat!
Her heart def!
6. What will your spouse say attracts the most attention toward you when you are in a large crowd?
The way I carry myself most likely. ;)
Probably the fact that I'm 22 and I still act like I'm 18 haha! I'm young at heart what can I say? X)
7. Without looking it up or asking....what is your spouse's zodiac sign?
We wouldn't know cause we don't do that ;)
Haha gosh I have no idea! Leon and I aren't into the whole zodiac thing. X)
8. What is the last food item that you both shared in bed?
Well, I had Panera's Strawberry Poppyseed Chx Salad (My fav) & He had very bad Mcdonalds!!
Mcdonalds:)
9. What would your spouse say is the first thing that you did on a date that showed them what you were REALLY like?
I bought her a very expensive dinner. hehehe!
hmmmm... I was always very quiet and meek on our dates. That pretty much did it all. :)
10. What did your spouse say they wanted to do more than anything before you were married? Anything?
Go to a Michael W smith concert.
Bath in Jello.... Weird! haha
Come join in all the fun for this Link up!!! :)