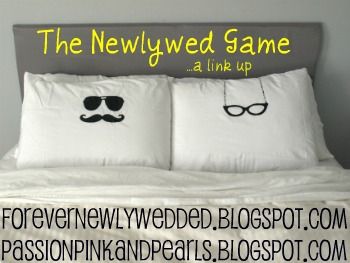 So, today is the very last Link up of the newlywed game! So head over to these lovely ladies
Karla
&
Veronica
to link up!
1. What would your spouse be happy doing for hours on end?
Watching me shovel snow. Cause I'm MR MUSCLES!!
Haha! I do love to watch my man hard at work ;) Leon loves to play video games. SO I would def say playing video games. NEEERRRD!! =)
2. If you had the money, what would you buy for your spouse today?
I would buy him all of the video games he wanted.
3. What show is your spouse currently loving on tv?
We're both pretty sucked into "Once upon a time" At the moment. :)
4. What is your spouse's favorite (all time or currently) youtube video? Share it with us!
Heather laughs every time she watches this! She also loves utube videos involving babies. Leon has loved this one from the beginning of time. It has always been one of his favorites! I've chosen this one because he's liked it for the longest. But he likes different video's at a time. He also really likes Rhett and link

.







5. Do you and your spouse plan on doing gifts for anniversaries based on traditions? Like the paper for one year etc.
Nope, We're not the tradition type.. We just go with the flow and buy things and surprise each other with things we know they want.
Not really.. We really like to surprise each other when it comes to stuff like this.
6. How many kids does your spouse want? And if you could only have boys or girls
which would your spouse prefer?
My wife wants at least 4 kids. And she would def want girls so she could dress them up all tutuish and stuff.
Around 3 or 4ish.. We also really desire to adopt one day.. Oh gosh I honestly don't know!
7. Would your spouse want to live in the city, country or beach?
Country.. Most def. But she loves the water too!
I think Leon would really like to live in the city. But a very clean city where there was no trash to be found. He would also have to have a back yard.
8. What is a book you and your spouse have read together that you would recommend to other couples?
The five love languages. Because it helped us in our relationship during Premarital counseling. It really helped us get to know each other to a new level and helped with the communication. :)
Do I just have to mention one??? Well since Leon already recommended "Love language" I would say "100 questions to ask before you get engaged" It really helped Leon and I see what each other wanted in this relationship and helped it grow.
For the ladies alone I also really recommend "What is He thinking?" By Rebecca St James. She gave me that book personally and when I read it I loved it! I wish I would have read it before I was even dating. :)
9. What is your favorite engagement picture? Wedding picture?
I love this picture when we through cake in each other's face! It was classic!! =D
I couldn't just pick one! I had to pick two. There's this one because it was Leon's and my first kiss as a Married. couple. It was so wonderful!
I will forever LOVE this one! Leon swept me off my feet and we almost ran over Pastor Joe! haha!
10. What is one piece of advice you would give to those dating, engaged and or newly married?
No sex till marriage fella's. It's worth it!
I would encourage them to know how important it is to keep Christ first always! In there dating relationship, engagement and Marriage. Because in each season there will be difficulties and Jesus is the only one who can give us the strength to overcome every situation. And also He's just Awesome! :)